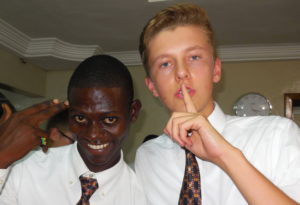 One of my favorite artists back in the U.S. said "I've achieved a lot in life, but what's a lot with more to gain" and "I've been patient, never complacent". This past week I talked to some of the return missionaries here in this area, and they have really helped me gain a better perspective on life and on missionary work. A lot of times in life I think we see things through narrow vision. We set our sights too low. We get caught up on small things. I see it happening to myself all the time. One of the most dangerous things that can happen to us is getting stuck on our successes. It is good to celebrate, but we should always be looking to expand and work harder. We should be patient, but never complacent. I am a firm believer that the adversary uses laziness and stagnation to deter us from our heavenly course. Don't let him get the best of you.
The work here in this area is progressing well. Brother I. will hopefully be baptized this week. We are meeting new people all the time. One of the coolest things ever happened this week. Elder D. and I started teaching someone who Elder A. decided to drop from our teaching pool. We began teaching him and reminding him of the wonderful things he felt when he was taught the first time. In a lesson we taught him about the Holy Ghost and baptism, Elder D. felt prompted to do something really powerful. He looked at this brother and said "I want you to be silent for 60 seconds. All of us will be quiet and I really want you to focus on how you feel. I know that you will feel the Holy Ghost. When the 60 seconds is up, tell me how you feel." We all went quiet. 5 seconds later, he exclaimed "I know that this is the truth!"  It was so amazing to see him find the truth so boldly and instantly. He is a man of great faith. He came to church on Sunday and I know he will progress well.
Life is great. We got water back. I am learning how to cook all sorts of great Ghanaian dishes. People here loooove cassava and plantain. They use it in almost everything. They also love pepper, which is alright with me! The soil in Ghana is very fertile, so a lot of people have farms, where they grow all their cassava and plantain. Ha. It is one of the most popular professions. People here are also super good with their hands. Seeing a Ghanaian in the kitchen will blow you away! The people here are absolutely amazing. I will send a video of me pounding fufu very soon. I am learning new things every single day and trying hard to become like a Ghanaian!
Have a great week everyone. Stay blessed.
-Elder F.