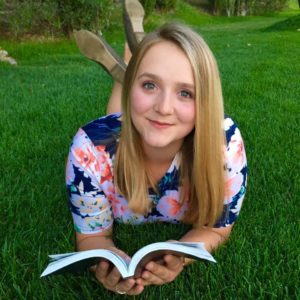 Nov. 6th, 2017
Family and friends,
Today my email is mostly Written by Sister S, but I feel as though they are my words too
 This was a solid solid solid week. We were able to pick up a couple of new investigators and had some really awesome lessons with some current ones! One of the new investigators we found was named A.
We actually went to go visit one of our old investigators named R. but he couldn't talk so we decided to tract his street. There was this SUPER CUTE kid just walking around his yard yelling who-knows-what, and it caught our attention! Then we saw a lady yelling at him to be quiet and decided to talk to her! She was so nice! We shared the "Because of Him" video with her and she started to really open up with us about her life. She started crying and told us that she didn't know what to do or where to turn. She was going through a lot of really rough things and felt completely alone. BOY DID WE HAVE A MESSAGE FOR HER! We talked to her about finding peace through the Savior and His Atonement. We shared some scriptures and our testimonies and left her with a Book of Mormon and a pamphlet. She said we are welcome to come back so we will be seeing her next Saturday! But yeah that was a pretty cool experience.
Some of the current people we've been teaching are L. and C.! This last time that we went over there we decided to just have a lesson where we use the Book of Mormon to address any concerns they might have. Right off the bat they had some awesome concerns that we were able to address and WOW it was a spiritual lesson. It's crazy how no matter what the concern is, you can always find answers through the Book of Mormon! Then we gave C. a church tour so she would feel more comfortable with coming to church for the first time. THEN THEY BOTH CAME TO CHURCH ON SUNDAY! Wow it was so good to see them! They both had an awesome experience and kept telling everyone they would be back.
We also went back to teach D. and M. a baptism follow-up lesson but decided to spend time just talking to them and shared a simple video. THESE KIDS ARE THE CUTEST. We hadn't been over since their baptism which was a few weeks ago and D. just kept saying how much he missed us. He kept saying, "it's so good to have the sisters back again!" And hugged us probably 10 times each. WE LOVE THESE KIDS SO MUCH.
Wow it is so good to be a missionary. As some of you know, our mission just got approved for Facebook and that has been so good! I was a little skeptical at first. I really didn't want Facebook. But after I've become friends with everyone in the mission, my news feed is completely filled with positive and uplifting messages and I just love it so much! Imagine how much good we could do if every member of the church just posted 1 uplifting thing a day. IT WOULD BE SUCH A POWERFUL THING. I encourage everybody to use social media for good!
We have had a great week, I love being a missionary.
Love, Sister H.