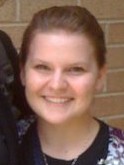 Hermana Kelsey 9:2 -email-
Dear familia!
What?!?! You got a new dog?! Wow that is crazy. Hey Mom, remember how you said you weren't going to get another dog for a really long time, if ever? I guess that didn't work out like you thought it would. 🙂 Ha ha ha. That's awesome though. She is very cute. I really like the name Esther for her too. I just read that story very recently in the Bible and I really love it. It is definitely one of my favorites. 🙂
Wow! So this week flew by. The weeks lately have been going way too fast. In about 3 weeks Sister Q. will be going home. I will be letting you all know about my new companion the Monday before, because that is when we get transfer calls. I have a feeling that President might have me train this next transfer. I'm super nervous. I don't feel like I'm ready for that kind of responsibility yet. But soon I am going to be one of the oldest sisters out. At the end of this transfer, there will be 3 spanish sisters going home (Sister S., [my companion before Sister Q.] Sister O., and Sister Q.). There are only 3 other sisters that have been out longer than me (Sister W., Sister S., and Sister V.). Sister V. has already trained once, and Sister S. is really sick (she is allergic to basically every kind of food. She can only eat fruit, some vegetables and fish.), so she might even go home. So basically it is between me and Sister W. But who knows. Everything will happen the way it is supposed to.
So we didn't have a baptism this week. 🙁 We decided to move it to this coming Friday, because she felt  more comfortable with a little more time to prepare. But now she is missing in action! She was supposed to be at church yesterday to have her interview, but she never showed up. We stopped by her apartment twice to see her, but she wasn't there, and we called her phone probably 15 times. We're not really sure where she went. So hopefully we can find her and get everything figured out. But we did have some really cool things happen yesterday at church. So Sister Q and I were sitting the in the chapel as church was about to start, and lo, and behold, guess who walks in?! 3…that's right, not 1, not 2, but 3! of our investigators that we had dropped a little while ago, come walking into the chapel! It was amazing!!. We didn't even ask them to come or anything, but their relative who is a member has been working really hard on them and somehow got them to come to church! And they want us to start teaching them again! Hallelujah!! It's a miracle! 🙂 Ha ha ha. But yeah we were super excited.
One other person that came was Carrie. I don't remember if I told you about her. She is 14 (well she just had her birthday, so now she is 15), and we were teaching her for quite a while. She had a baptismal date, but when it started getting close, and she told her mom (who is a member), her mom told her she shouldn't even get baptized, because she swears. So then after that she decided she didn't want to get baptized anymore. After that she got really cold towards us, and didn't really pay attention when we taught her. And then she stopped praying, coming to church, and reading her scriptures. So we couldn't go see her anymore. We were still teaching her dad, and so we would go to her house still, and every time she saw us she was just really cold and borderline rude to us. But we were still nice to her. Anyway, so on Saturday, her mom fed us. So it was all the missionaries in our district (the elders and us), the Hermana, and also Carrie. When we came in the door, like most Hispanic households, the women always kiss each other on the cheek. When we walked in Carrie kissed us, because that is what you are supposed to do, but there wasn't any feeling behind it. While we were eating dinner, Carrie just came in the room, and started hanging out with us. She didn't really say much, but she listened a lot to what we were saying. By the end of the evening, she had warmed back up to us and even hugged us both at the end. And then she was at church again! It was awesome. We can tell now that she missed us when we weren't coming to see her, and now she can tell the difference between the good spirit that we bring into the house, and the bad spirit that her siblings, who are not making good choices, bring into the house. We're still not sure what is going to happen with her, but now there is at least a little hope for her future. 🙂 🙂 🙂
On Monday, we got our car switched to a different one. I am now driving a brand new 2012 Chevy Malibu! That thing is nice, I'm not gonna lie. When we got it, it only had 50 miles on it. That is how new it is! It is a really smooth ride. 🙂 I kind of think I am going to want to buy a new car when I get home, but I don't think that is going to happen. Well, I mean I know that is not going to happen. But anyway, I can still dream right? 🙂
Anyway, I better go now. I'll be safe tonight. 🙂 I love you!!
Dad: Ha ha. Don't you hate when people just do things even though you said no? 🙂 But hopefully you will get to enjoy the dog, at least a little bit. I still can't believe mom even went for it. Ha ha ha. I know how you feel about finding new pounds (weight). Ha ha. I really actually haven't gained too much weight, I'm just really soft, and little bit squishy. But it's okay. I don't need to be worrying about that right now. I'll just work out when I get home and have time. 🙂 Anyway, that's really all. I hope your week is great! Love you.
Emmysaurus: "I smell cookies."
Ha ha ha! I was just telling Sister Q. about that movie (Nacho Libre) the other day. It was sad though because I couldn't remember some of the funny things he says. We will have to watch that movie when I get home, so I can remember the hilariousness of that movie. 🙂 🙂 Anyway, I'm glad you are enjoying your new dog. Once I get home, and get married, and all of that fun stuff, I am definitely going to be getting a dog for sure. Although, being on the mission makes you a little scared of dogs. The little ones always run at you and try to bite you. But you get used to it. After a couple times, you start to take off your backpack, so if they come at you, you can just whack them. 🙂 Ha ha ha. Anyway, I think that's all. I love you. Bye. Peace and blessings!
XOXOXOXOXOXOXOXOXOX