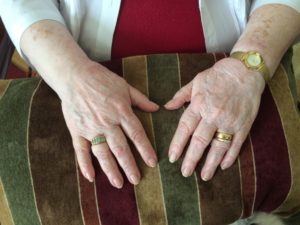 Today is my birthday!
I don't really need to talk about me today.
It's just another year, and I'm getting old. 
What I want to do is talk about this amazing woman that I met 55 years ago!
She is my Mama!  
I love her so much. Her life has always been something to admire. She is a wonderful person, and has blessed my life everyday. 
These are my mama's hands. Imagine the work they have done, the meals they have prepared, the bandaging of ouches, the writing of talks and lessons, the holding, the all around blessing of others that they have done for 84+ years!
I love her hands!!! I love all of her!!! 
Thank you Mama, for bringing me into this world. Thank you for loving this accident prone-barefoot little girl, for trips to the hospital for stitches, for putting up with me telling on "mean" brothers, and sharing a hug to make it all better. Thank you for hours of listening at the foot of my bed, while I work through the current challenge in my life.
You are my hero! You have blessed so many, but today I'm especially grateful that you have blessed me! 
I love you Mama!