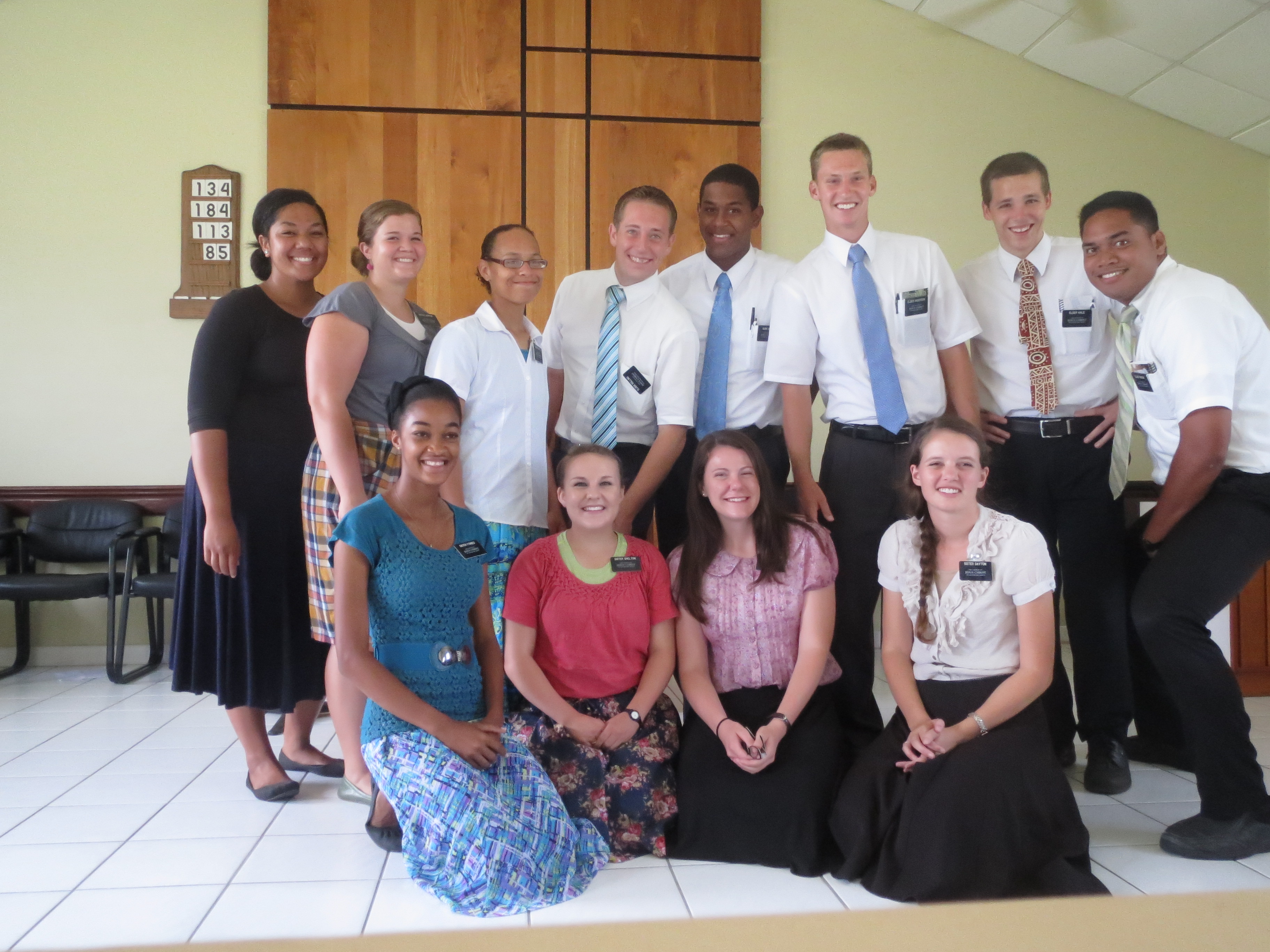 #11
Hello! Oh sorry about the lack of words last time… It's always going to be short when you get pictures because it takes so long! I'm deeply sorry about that. I hope you liked the pictures 🙂 Ahhh… Tell Tasha Bear that I love her with all my heart. You taught sharing time about families? Families really are so important. Nobody has a stable family life out here. It is so sad! I appreciate so much the way I was raised and my wonderful fam.
Favorite experience from this week: There has been many… I will tell a couple! So yesterday we went to visit this less active Sister from our Branch. And she was so cute. We talked to her about why she hasn't been coming to church and tried to help her remember her testimony. She was telling us that her son has been killed and that's why she joined because of the Plan of Salvation. I then committed her to reading at least five verses from the Book of Mormon each day. And I bore my testimony of the Book of Mormon. I started tearing up and so did she. It suddenly hit me. I have always known that it was true but it just like punched me in the face. The Spirit was so strong. We told her that if it's a desire that she has to make it back to church that we'd do everything in our power to help her.
Speaking of which…. I worry so much. I never realized missionaries focus on new investigators, less actives, recent converts. And it's a continual effort from the missionaries and individual to keep going. One of our Recent Converts the other day said to us "what do you guys have to worry about, you don't have kids?" And I was like WHAAAAAAAAAAAAAA???? I swear I worry more now then I will as a mom. Ok prolly not. Anyway!!
Another cool experience. C.: Brother K. now… WE ARE PREPARING HIM FOR BAPTISM!!!!!!!!!!!!!!!!!!!!!!!!!!!!!!!!!!!!!!! August 10th is his date 🙂 🙂 🙂 We also are preparing N. To be baptized on August 17th!! AND D. ON THE 24TH!!!!!!!!!!!!!!!! YEEEEEHAAAAA!!!!! They are all so wonderful.
This week I actually was STRUGGLING for a couple of days… It's always darkest before the dawn?? I think yes. Or as dwight would say false. Optimum darkness is at approximately 2 a.m. Hahahahaha Anyway. Sister T. and I are opposites when it comes to being bugged. So long story short she kind of shuts down when she is mad or bugged and I want to talk about it. It was pretty rough… It sounds lame now that I wrote it out. But it was hard. I really love my companion with all my heart. We work so well together and we are very unified. She really is wonderful. I am grateful for her and her patience.
Funny Story: We were at an investigators house and she writes peoples phone numbers on her walls. SO we started writing down some of the peoples phone numbers from her wall and called them later on. We were cracking up laughing.
HOLY CATS. I LOVE being a missionary. It makes me SO happy. I love it here. I love sweating. I love the people. But really the people here are so much fun. Almost all have a great relationship with Heavenly Father too! Which helps! People are crazy when they say this is a hard area. It's all in your attitude! I feel like it is home here for now 🙂 This is my temporary home. It's crazy how when you are bearing testimony everyday and struggling it strengthens you. So I tell my wonderful Father in Heaven: GIVE ME MOUNTAINS TO CLIMB! (that is actually a song). Anyway don't ever fret about me. I am in good hands. I am working hard and being blessed more than ever before! I hope you all are as well. If you have any questions you are welcome to ask me. I LOVE YOU ALL FROM THE BOTTOM OF MY HEART. Have a great week! And choose the right! I want to commit you all to reading at least one chapter in the Book of Mormon a day. And give everyone a hug and friendly hello from Sister Shelton 🙂 LIFE IS GOOD!
Love, Sister Emily