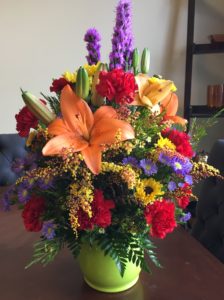 I am having so much fun at my new job!
It really is a dream job for me. I have worked at many jobs in my life. All have been useful in one way or another. I've learned a lot at each job. Some things I've learned are things I'd rather not experience, and some have been helpful time and time again in other life experiences. 
This job is a gift!
I feel blessed to have a fun place to work with wonderful people who I love. 
My favorite things about my job are these:
1-I am using the creative talents I have been blessed with to make something that will make someone else smile when they receive it.
2-My days are so enjoyable that the day is over before I realize it, and I haven't missed being home doing things there. This has been a problem with other jobs, because I usually want to be home getting things done there instead of working.
3-Flowers are my favorite! I love all of God's creations. I am in awe daily when I see all we have been given in this beautiful world. Flowers are such a sweet and delicate reminder that our Father in Heaven loves us, that our Savior and creator of the world would take the time to create the most tiny flowers. Some with heart shaped petals to show us- all of creation is important. If He cares about something so small, He cares about us, and the details of our lives.
4-I am so happy that what I do for my job is a blessing to others. I make a small contribution to making a funeral beautiful by delivering flowers for the casket. I get to see the smile on someones face when I show up at their door with flowers from someone who loves them. I get to create beautiful arrangements like the one pictured above that are lovely and brings happiness to others. What more could you ask for?
5-I get paid to do something I love, with people I love, and I get to bless and love others as a result of my work. 
I am so grateful for my new job! I will Bloom at my new job, and Plant in my heart and hopefully those I share my time with a love for beautiful flowers!!!