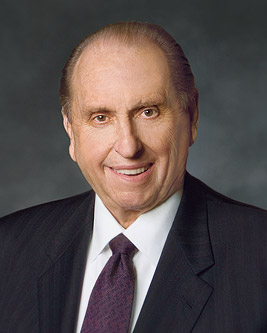 Our sweet Prophet, President Thomas S Monson passed away yesterday.
I am so grateful for his life and example. He has lived a life of integrity, and service. Everyone should have an example like Thomas S Monson to look up to show how to live the best life.
My favorite quote of his is:
"Whom the Lord calls, the Lord qualifies."
Other favorite quotes:
"Never let a problem to be solved become more important than a person to be loved."
"Choose your love, love your choice."
"A happy home is but an earlier heaven."
"A man without a purpose is like a ship without a rudder never likely to reach home port."
"Do not pray for tasks equal to your abilities, but pray for abilities equal to your tasks. Then the performance of your tasks will be no miracle, but you will be the miracle."
"The future is as bright as your faith."
He was called to be the bishop of an LDS congregation at the age of 22, with a membership of 1080 people, 84 of which were widows. He took good care of those widows, even speaking at all of their funerals. He was a stake president, a mission president and became an apostle when he was 36. He has been our prophet for almost 10 years. He lost his wife almost 5 years ago. I'm sure they had a beautiful reunion yesterday. We have enjoyed his wisdom and love for many years. The service he has given in his lifetime is immeasurable. He was 90 years old. We will all miss President Thomas S Monson!