We live in a small home. There is not space in it for a craft room. That is were I would probably put my gift wrap if I had a craft room. I don't buy a lot of gift wrap, but I like to have a little on hand in case I need it. I do have a hard time throwing it away. Especially if it is something like gift bags, that are made for reusing, and I love to reuse the bows. I have enough, that I wanted to have a special place to keep it that would make using it easy.
So I bought this shelf that looks kinda like a bakers rack, second hand and I had this idea to use it for a place to gift wrap.
A Gift Wrap Center!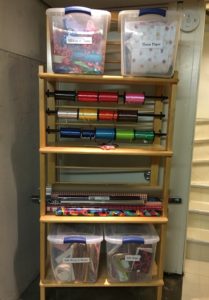 It turned out perfect, and it doesn't take up too much space!
I have a bin for ribbons and bows, a bin for tissue paper, a bin for gift wrap and boxes, and a bin for gift bags. Then my Darlin put some rods on it to put curling ribbon on. The rolls of gift wrap are on the second to bottom shelf. Now, I know what I have and will be able to make use of it all with my
Gift Wrap Center!